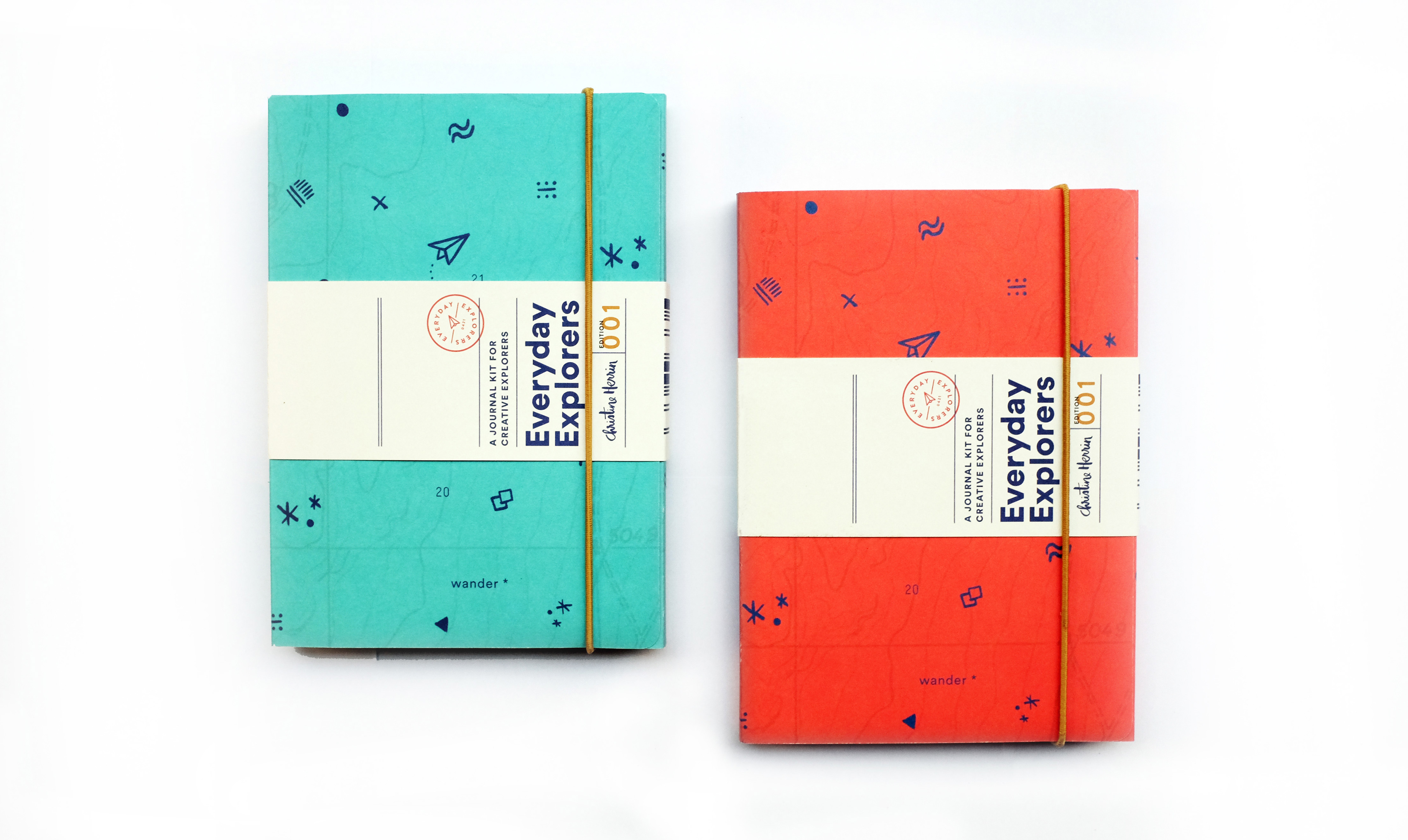 Everyday Explorers:
A Travel Journal Kit for Creative Explorers
A Different Way to Document
The Everyday Explorers kit is an invitation to seek adventure and document your favorite details, whether you're exploring new cities or discovering different sides of your hometown. It is meant to be an all-in-one kit that makes documenting fun and easy while you're on the go, with thought-provoking prompts and cards to fill up. The best part is that it all comes together in a box that also serves as a container for all the bits and pieces you pick up along the way!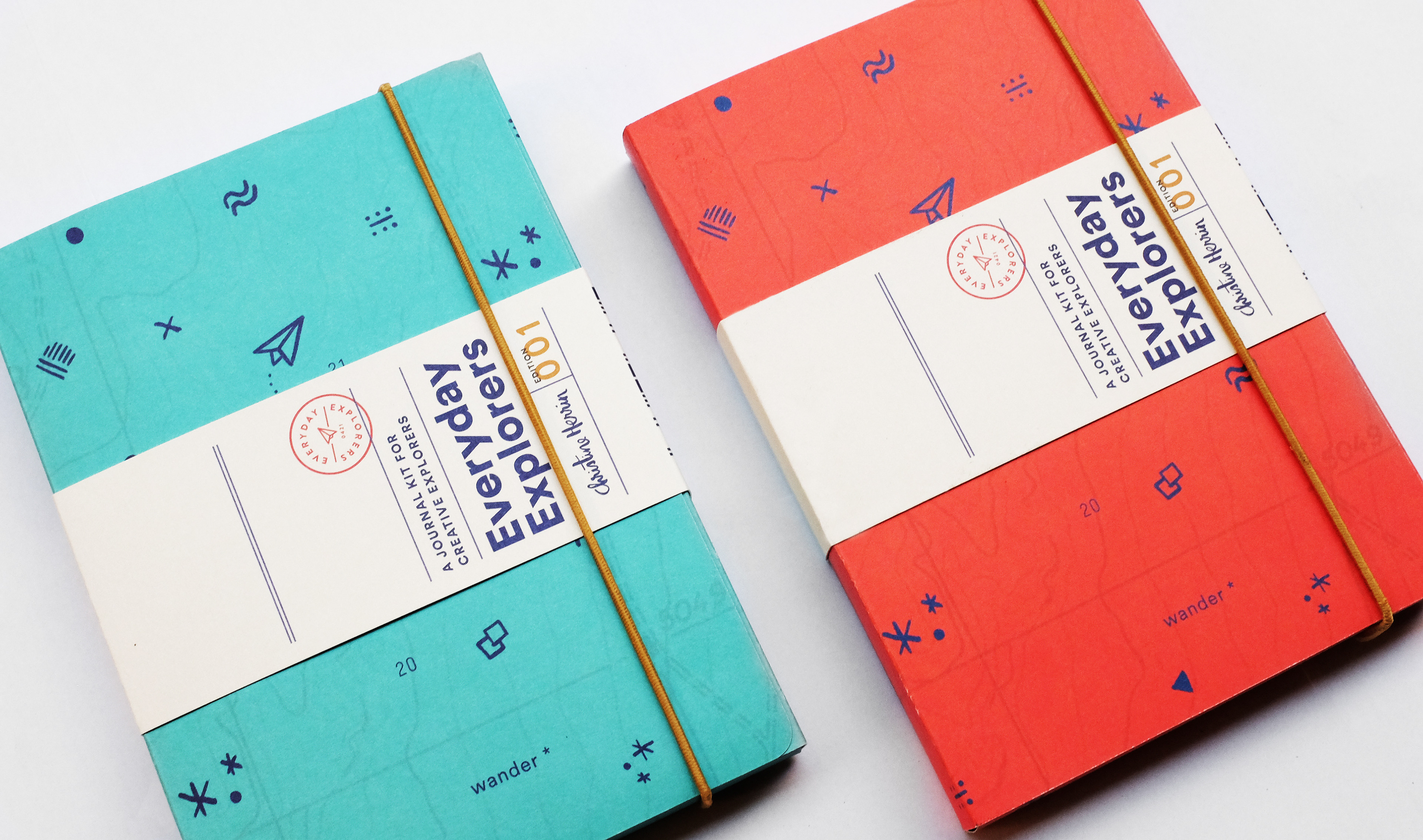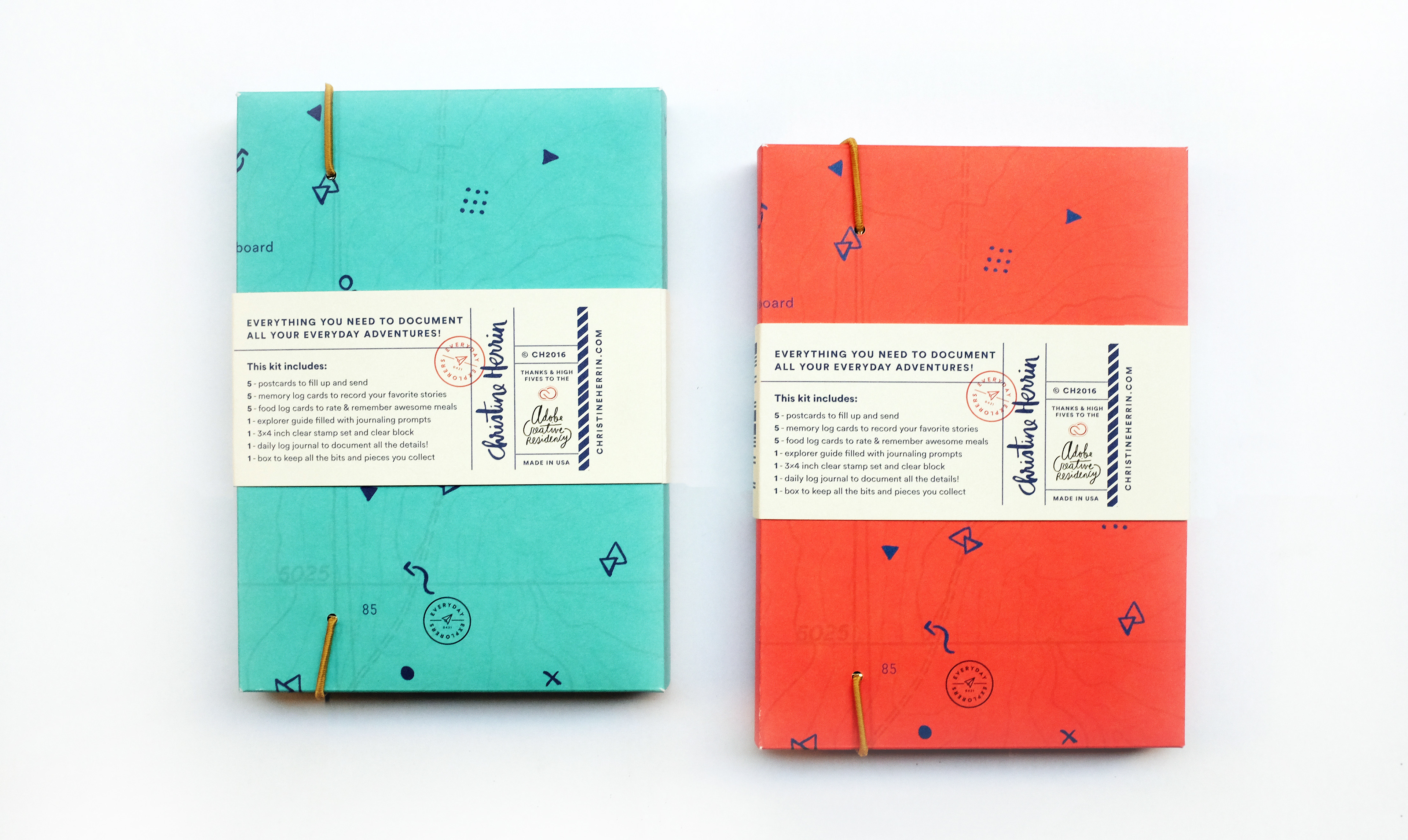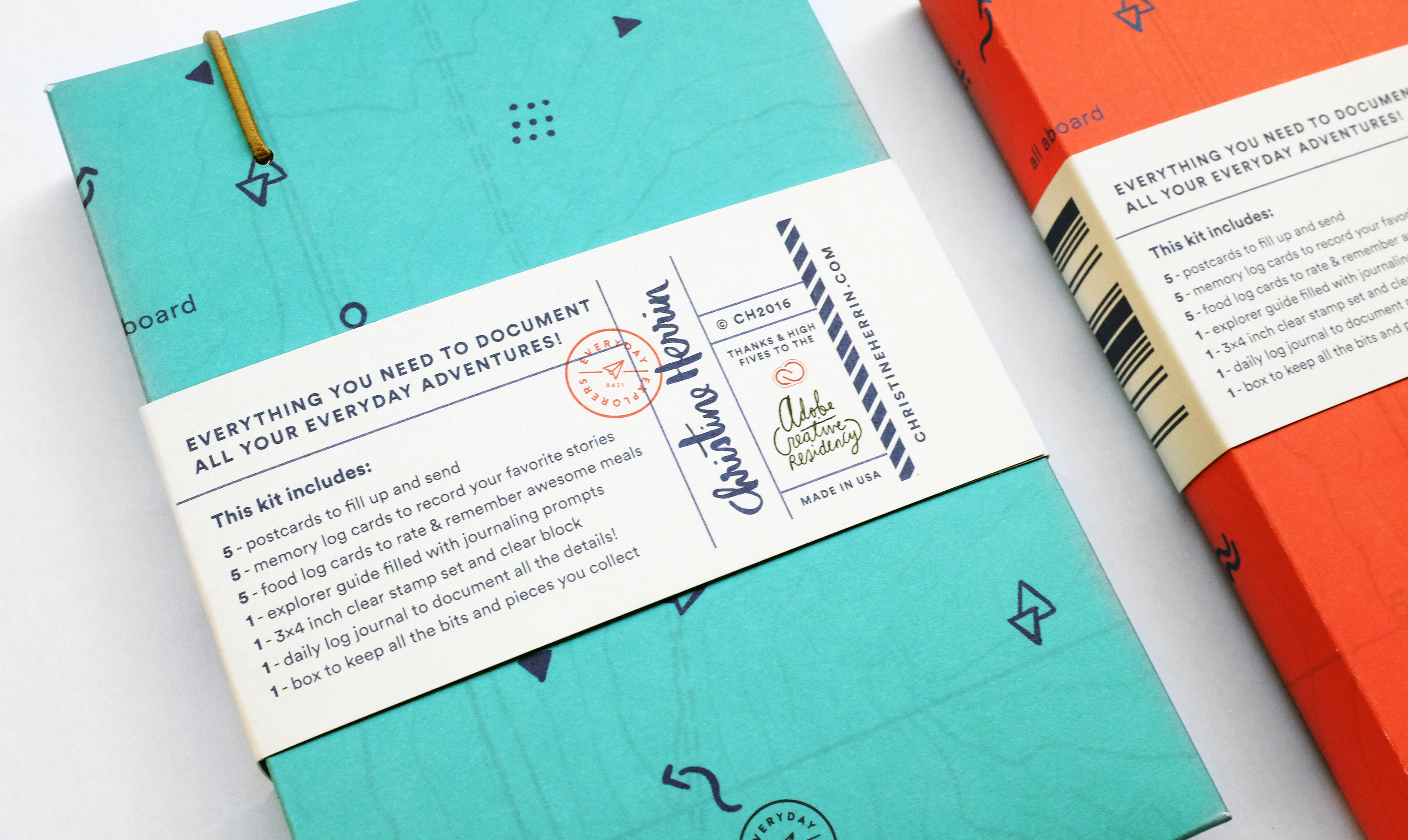 This project began as a side project in 2008. I had always wanted to write and design a different kind of travel journal, one that had prompts and activities based on the little details I'd notice and document on my own travels. Initially, I had wanted this to be an illustration-filled pocket notebook, inspired by cutesy Korean planners and stationery. While it never went to press, I had completed the inside text for it, which included journaling prompts, activity pages, and other details.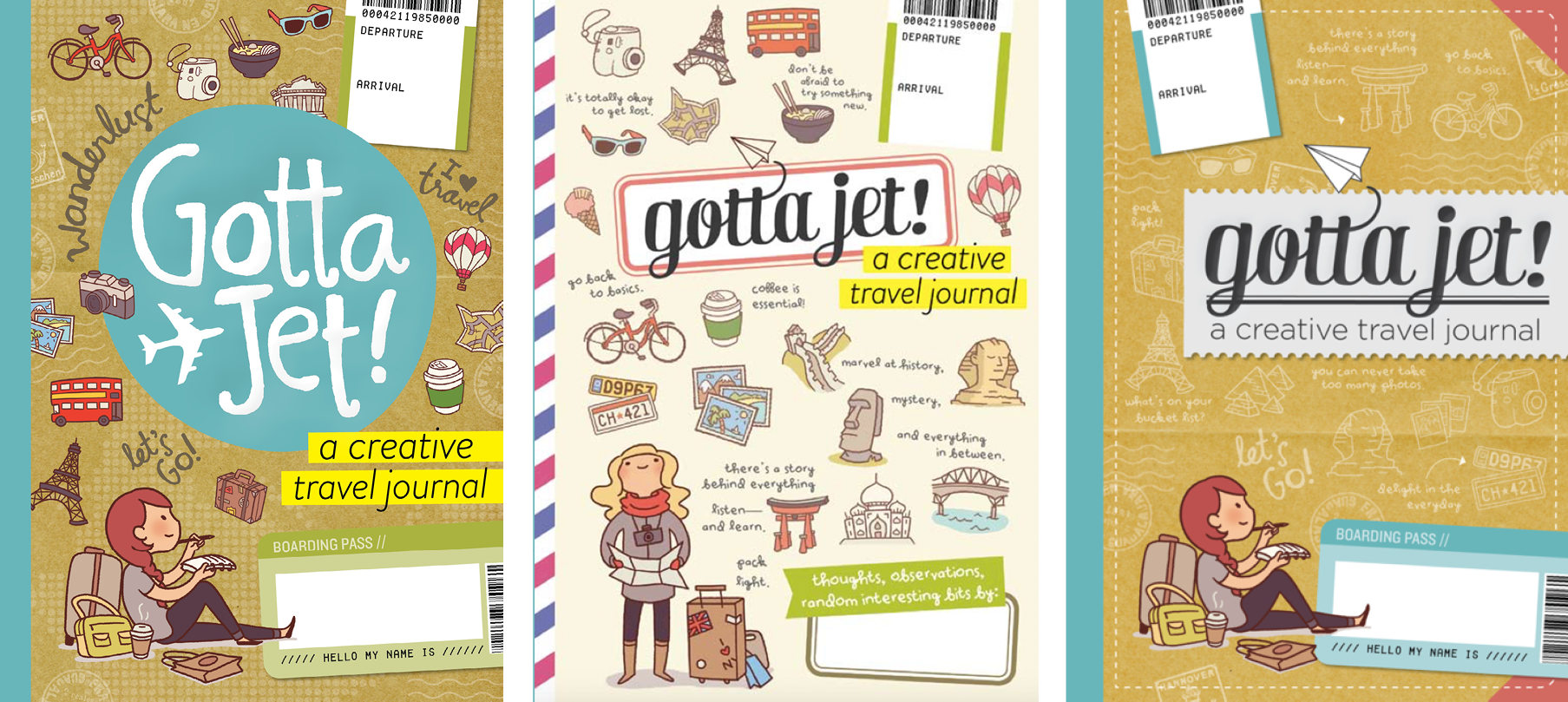 In late 2015, I decided to bring back a lot of the original prompts and text I had for the travel journal to create the first version of the
Everyday Explorers kit
, a 5x7 kraft binder. I loved the idea of the pocket binder — flexible enough to add and subtract pages, as well as add in little bits and pieces collected along the way, like boarding passes, tickets, and business cards. It was released as a limited run of 60.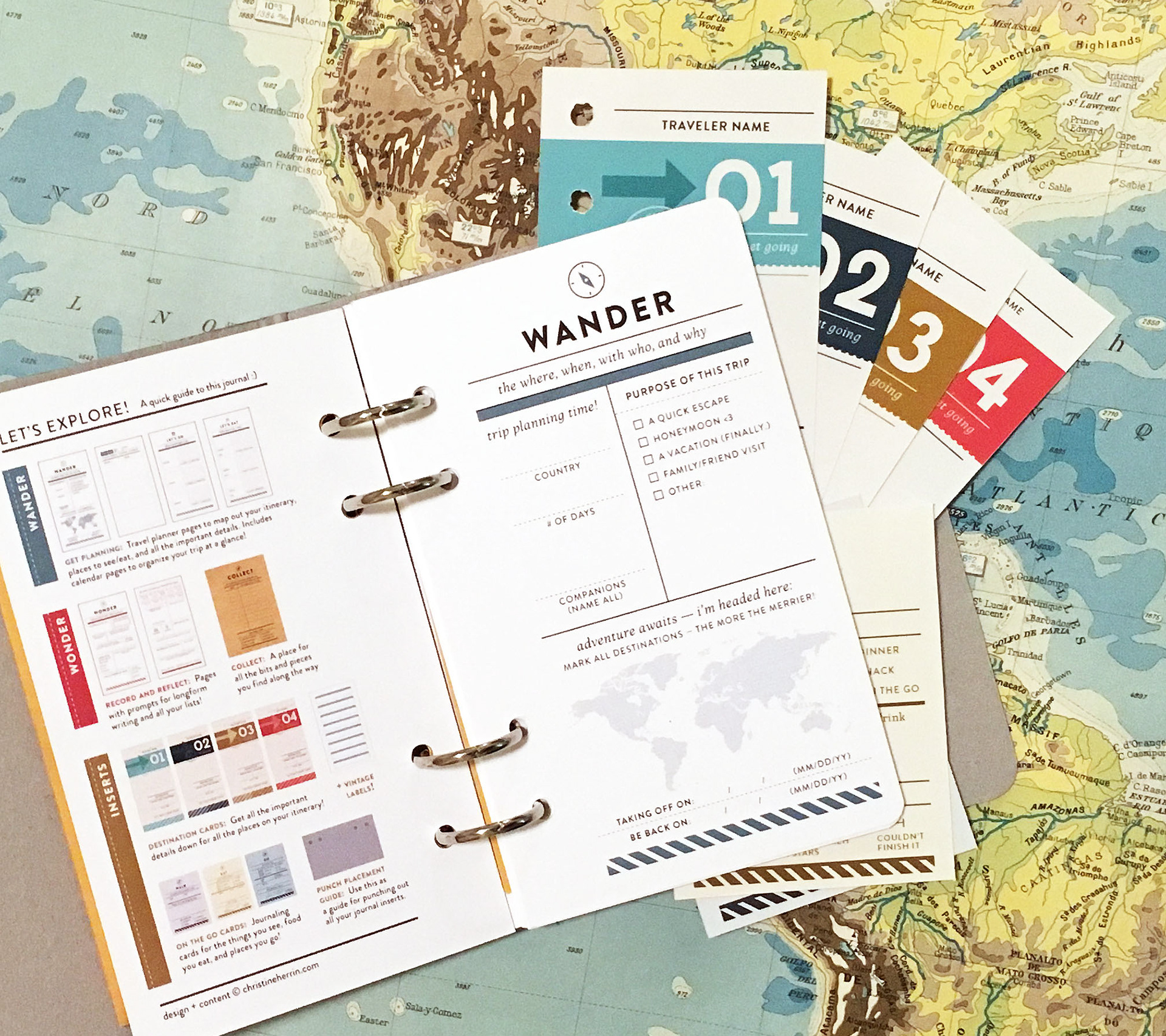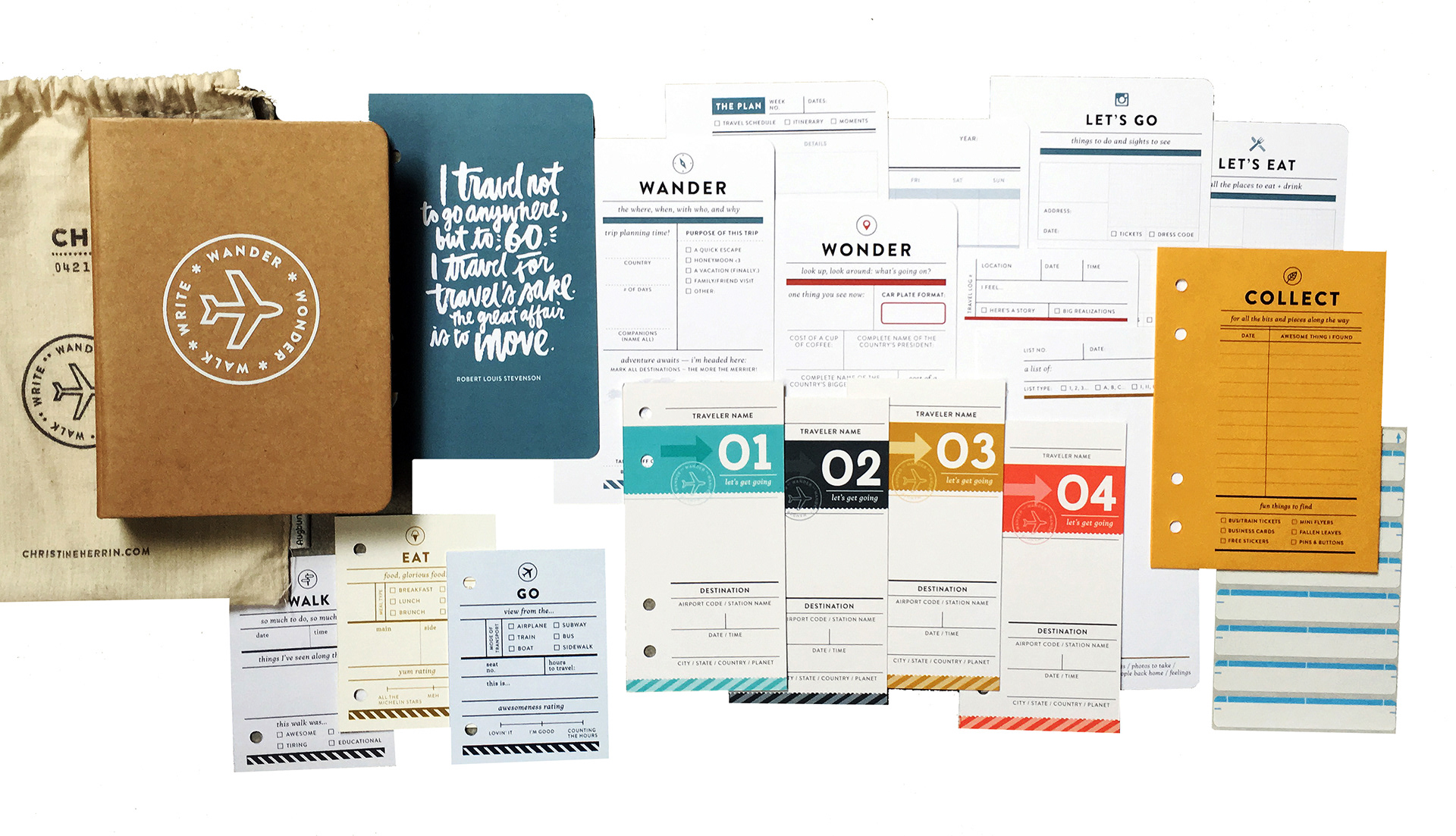 On a recent trip to Paris with my Adobe Creative Residency mentor Anne Ditmeyer, we both had the idea that the journal kit could possibly be a box. Inspired by all the design ephemera we collected after just one day around the city and a small pocket-sized folder we found at the bookstore, I got to work planning out the kit. A box seemed like the best idea: flexible enough to add things in, and it also served as a quick solution to those who did not have time to really scrapbook or design around the ephemera they collected, but wanted a way to showcase and document it somehow. 
For those who were more inclined, they could fill up cards and decorate postcards in the box; for those who weren't, it was a way to keep memories in a quick and organized way.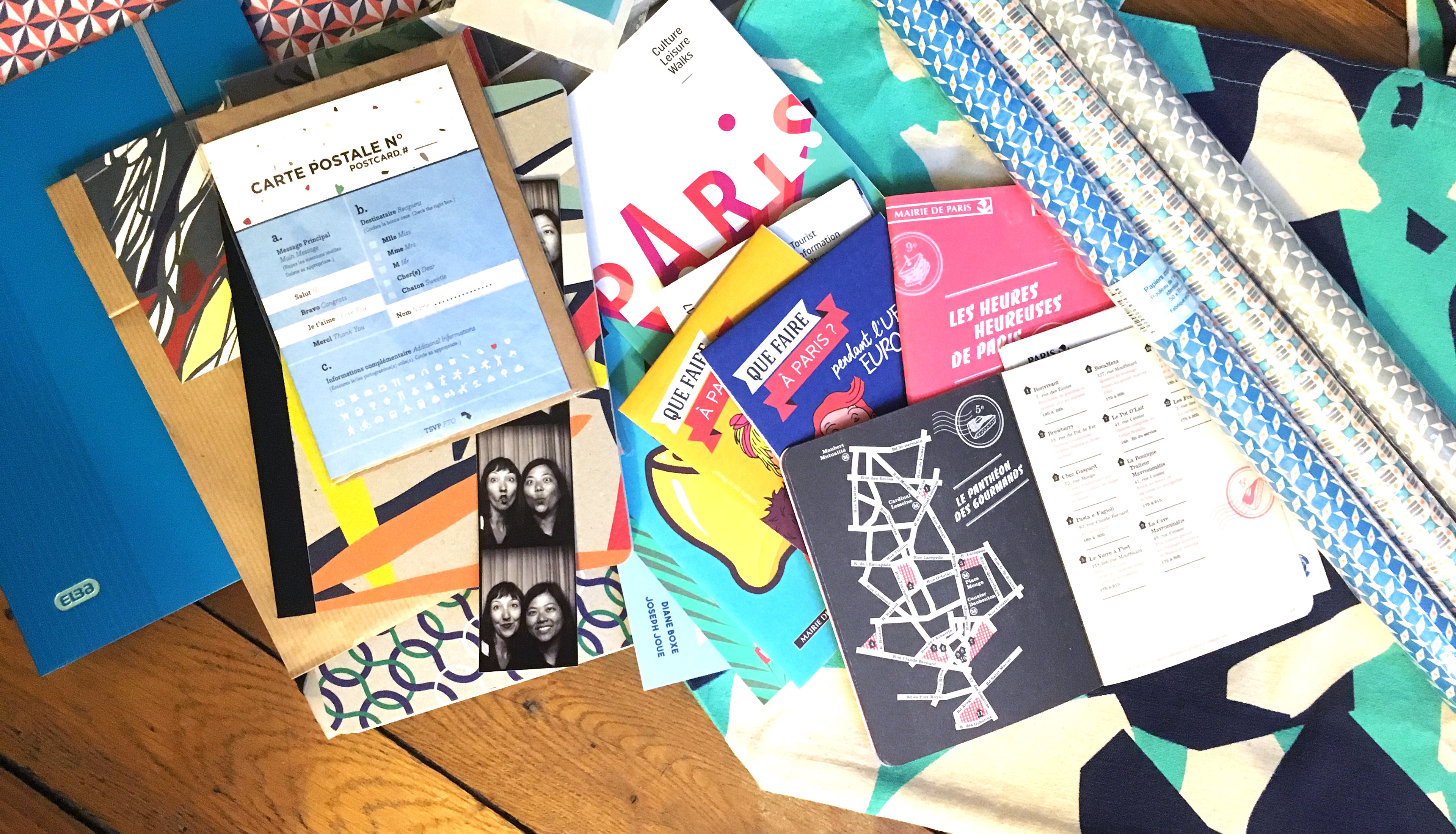 Initial planning and sketching began by mapping out all the contents of the kit. I knew that I wanted many different kinds of cards to fill up, and had to see them all laid out to get a firmer idea of how all the pieces fit together. Initial color schemes and sketches were created on Adobe Illustrator.
These proved to be very valuable while asking printers for quotes; turns out my initial sketch for the box and bellyband didn't make sense! (A printer tried to create a dummy for me and couldn't figure it out, hah!)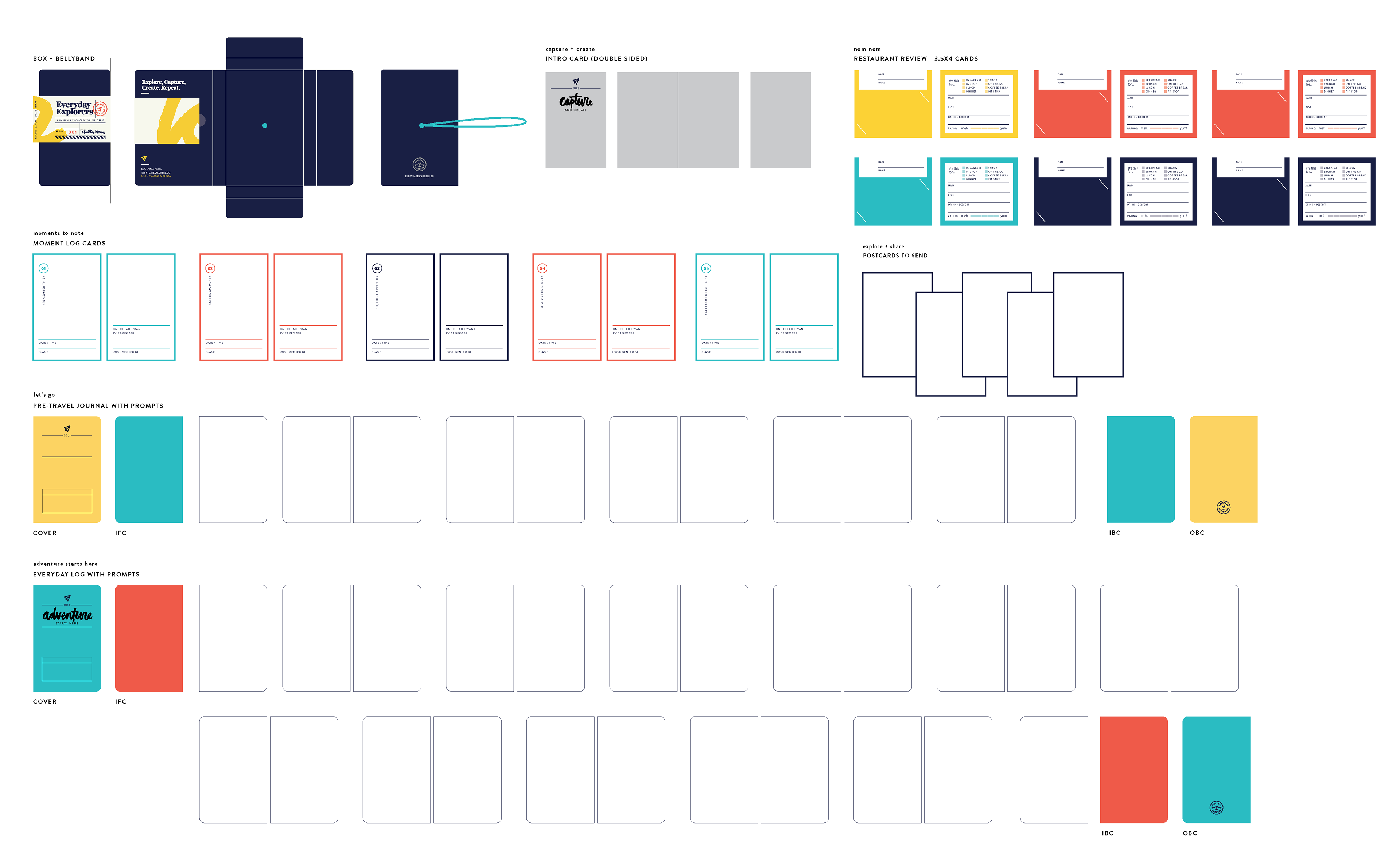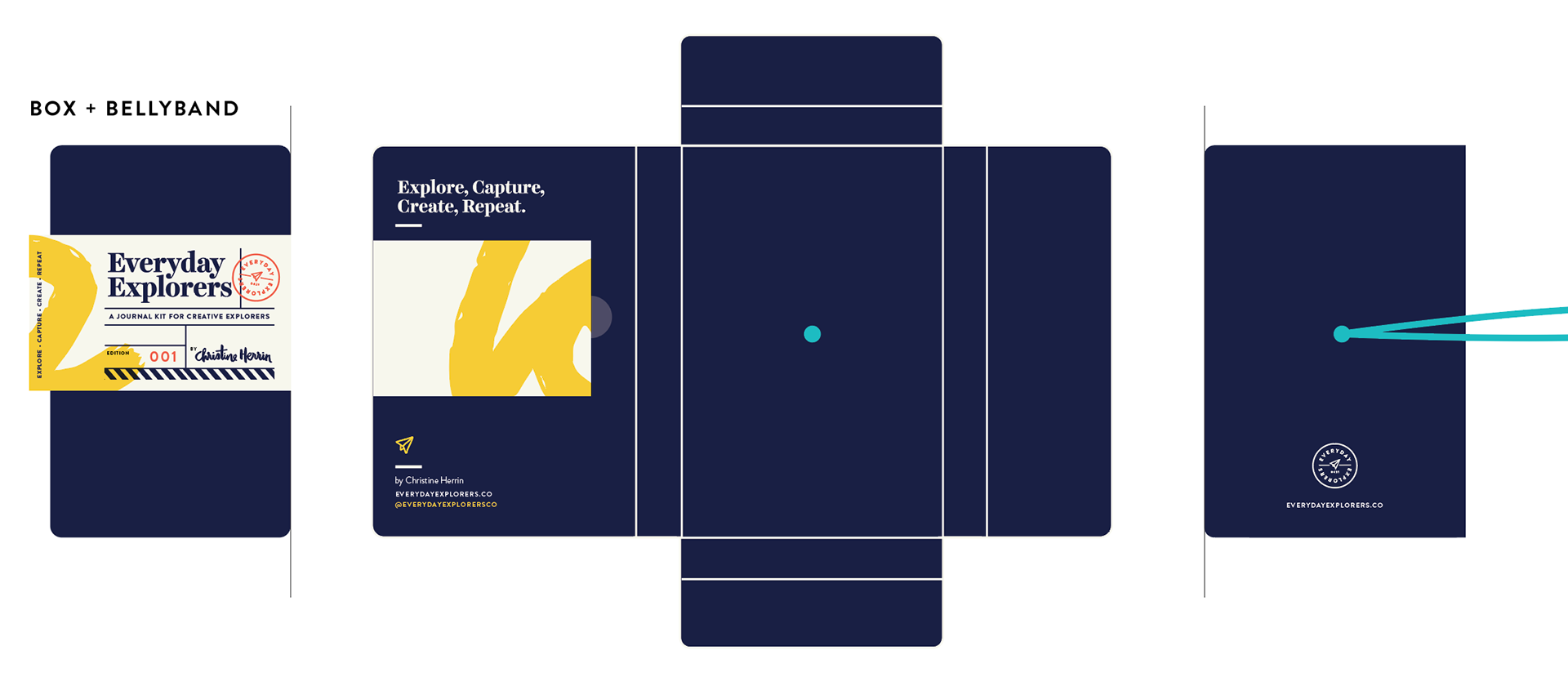 I decided to overhaul the visual design for the kit halfway through planning. Inspired by little doodles and icons, I wanted a fun pattern for the boxes in the inside, and a set number of colors for the inside cards. These doodles were quickly done on Procreate 
for the iPad Pro using an Apple Pencil, and later turned into vector and put together in Adobe Photoshop.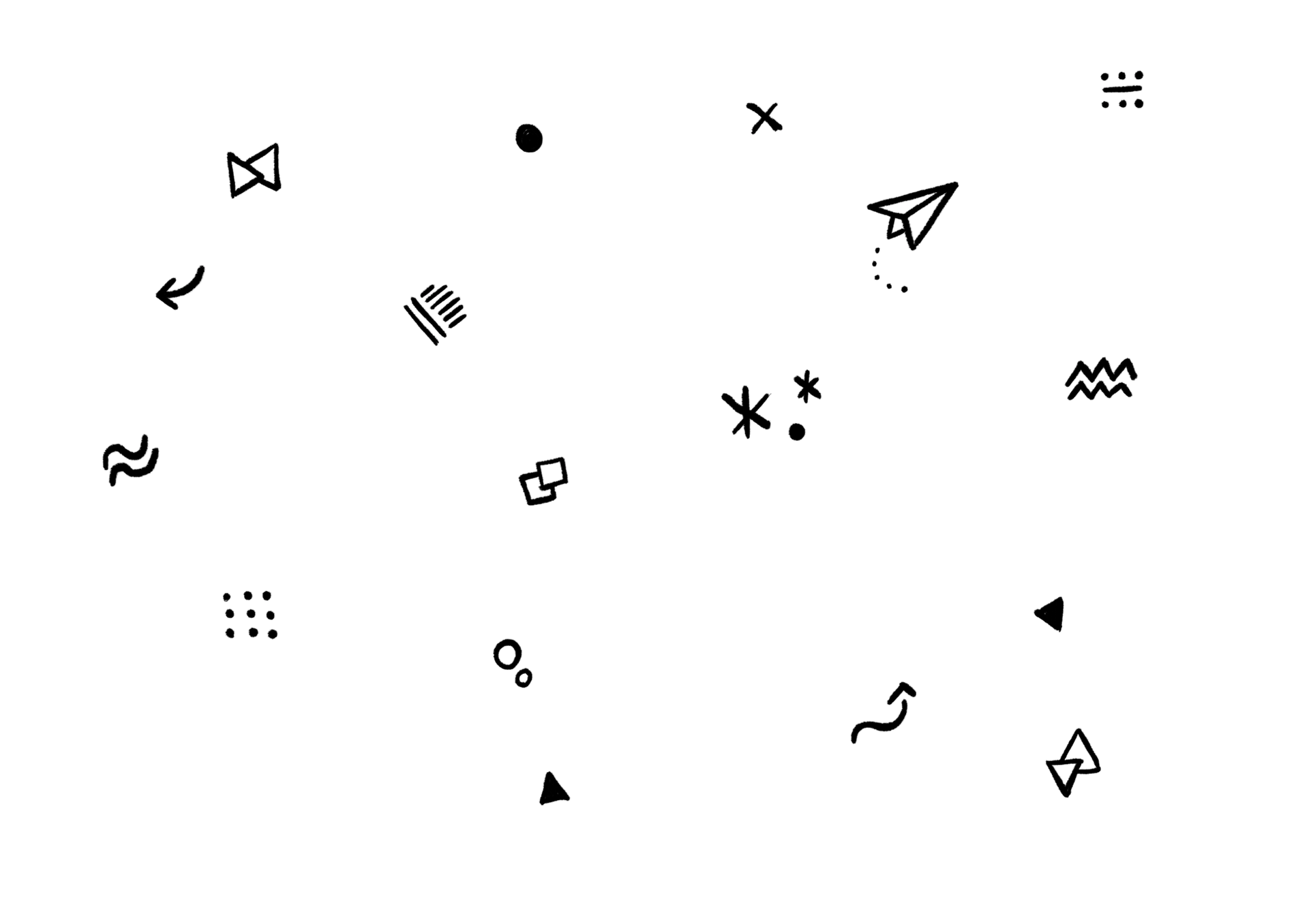 After figuring out the base color palette and pattern, I went on a mad design frenzy for three days straight trying to get this done. This included setting up several Adobe InDesign documents for each of the elements, digging up old journaling prompts from the original Everyday Explorers kit and earlier travel journal, as well as coming up with new ideas and copy for this version. 
Along with design, I had to write all the text inside — a surprisingly fun process for me! This project definitely took me back to my roots as a magazine writer/designer, and I loved having to figure out both parts of the project and putting it all together.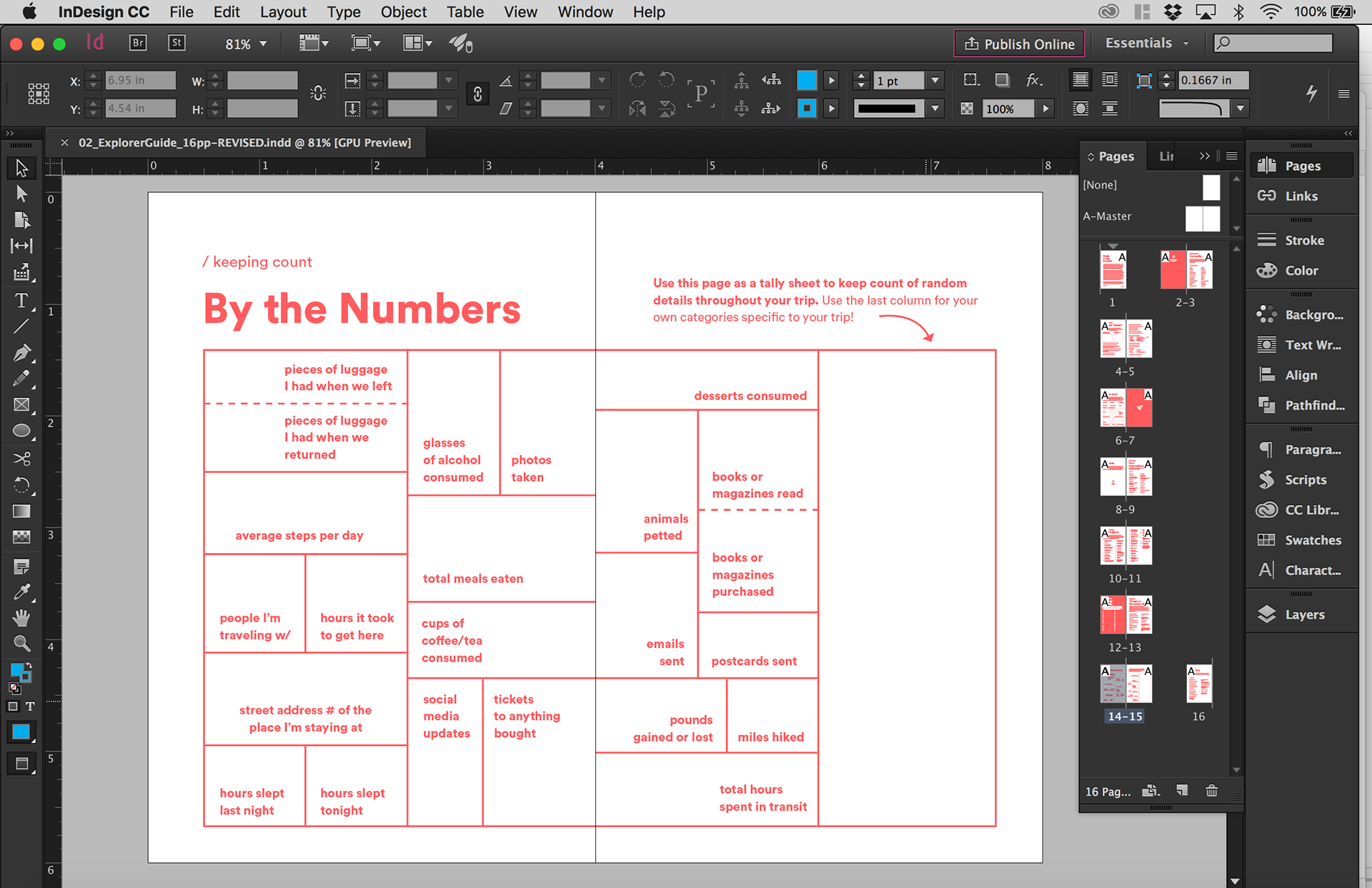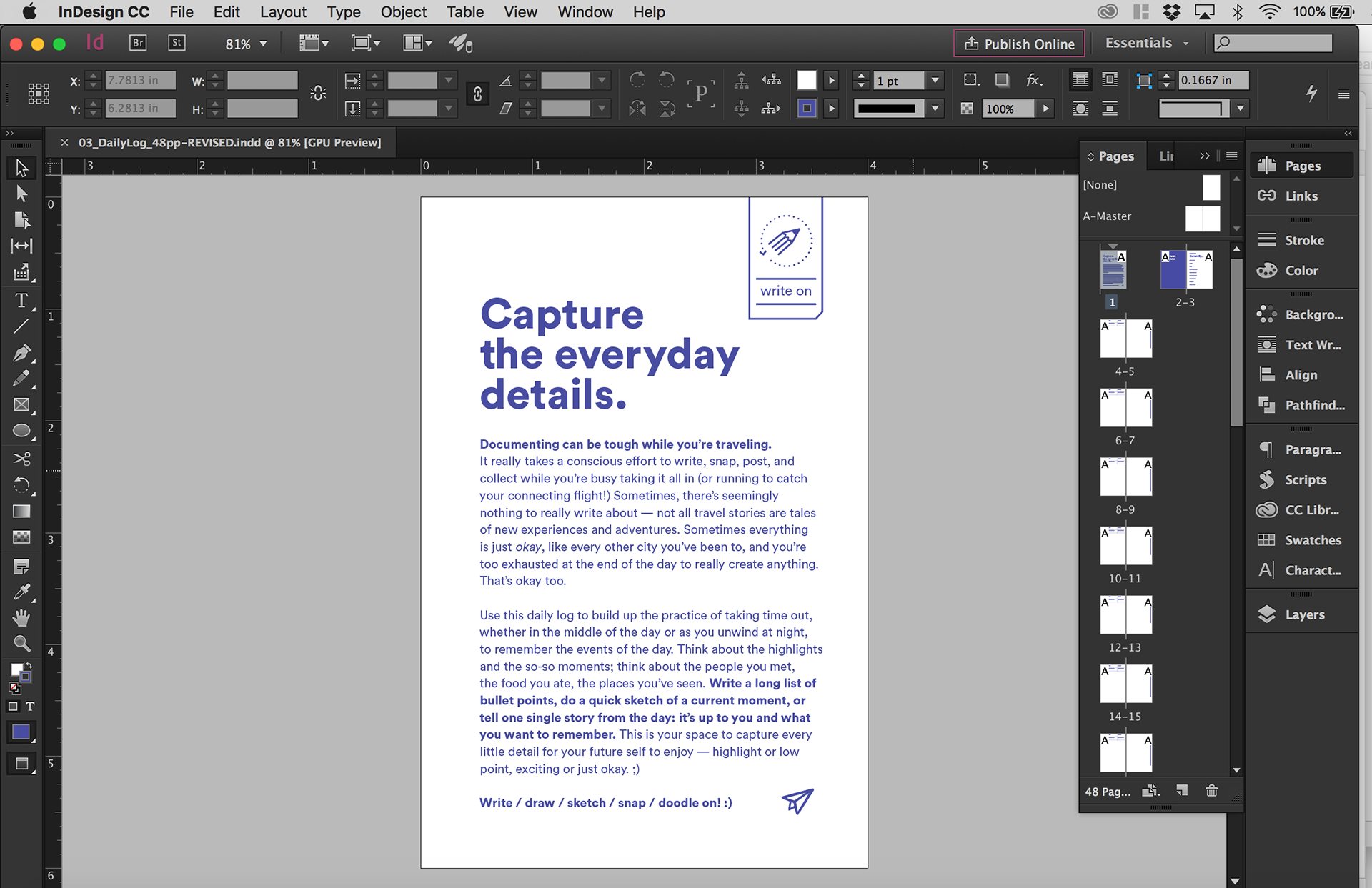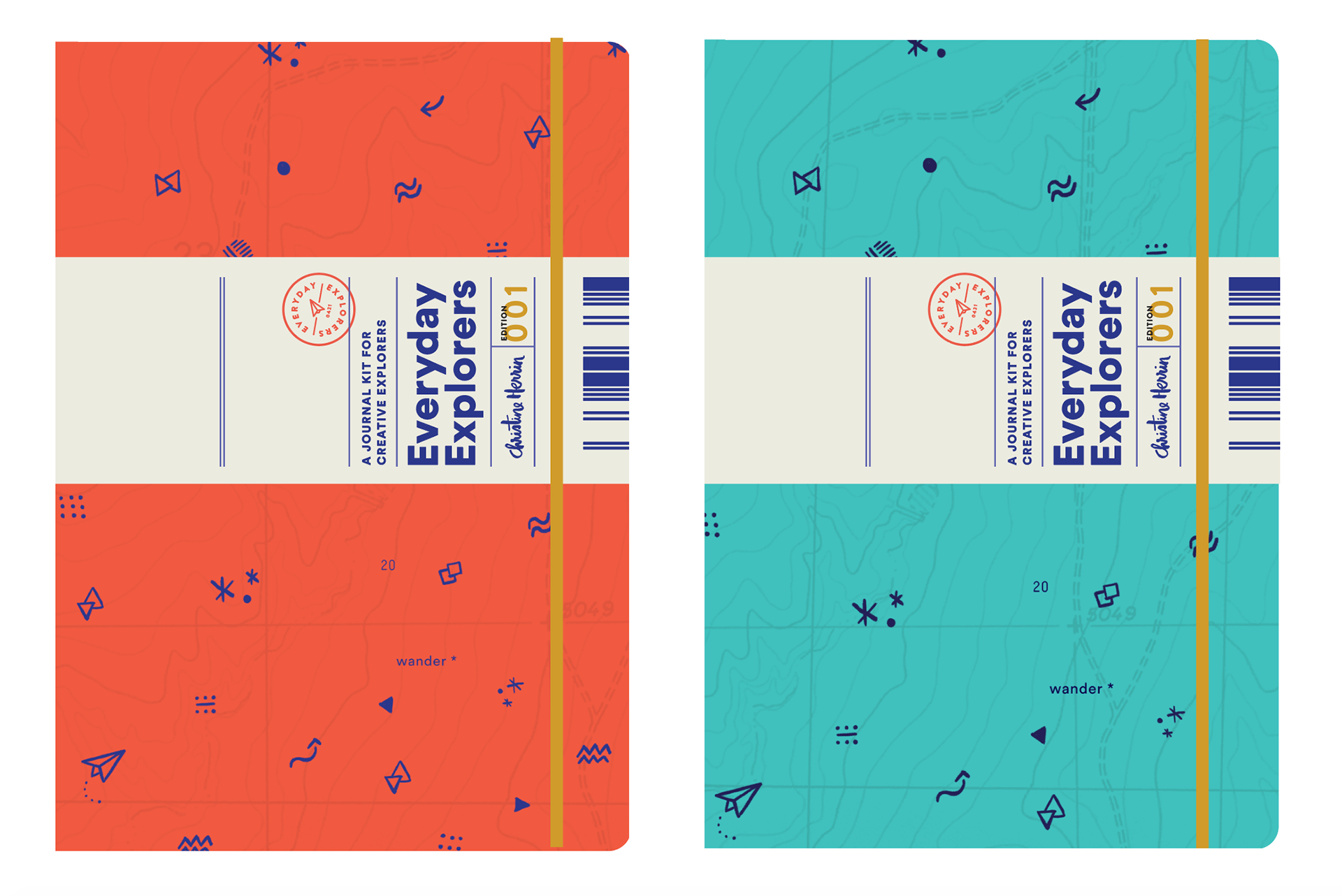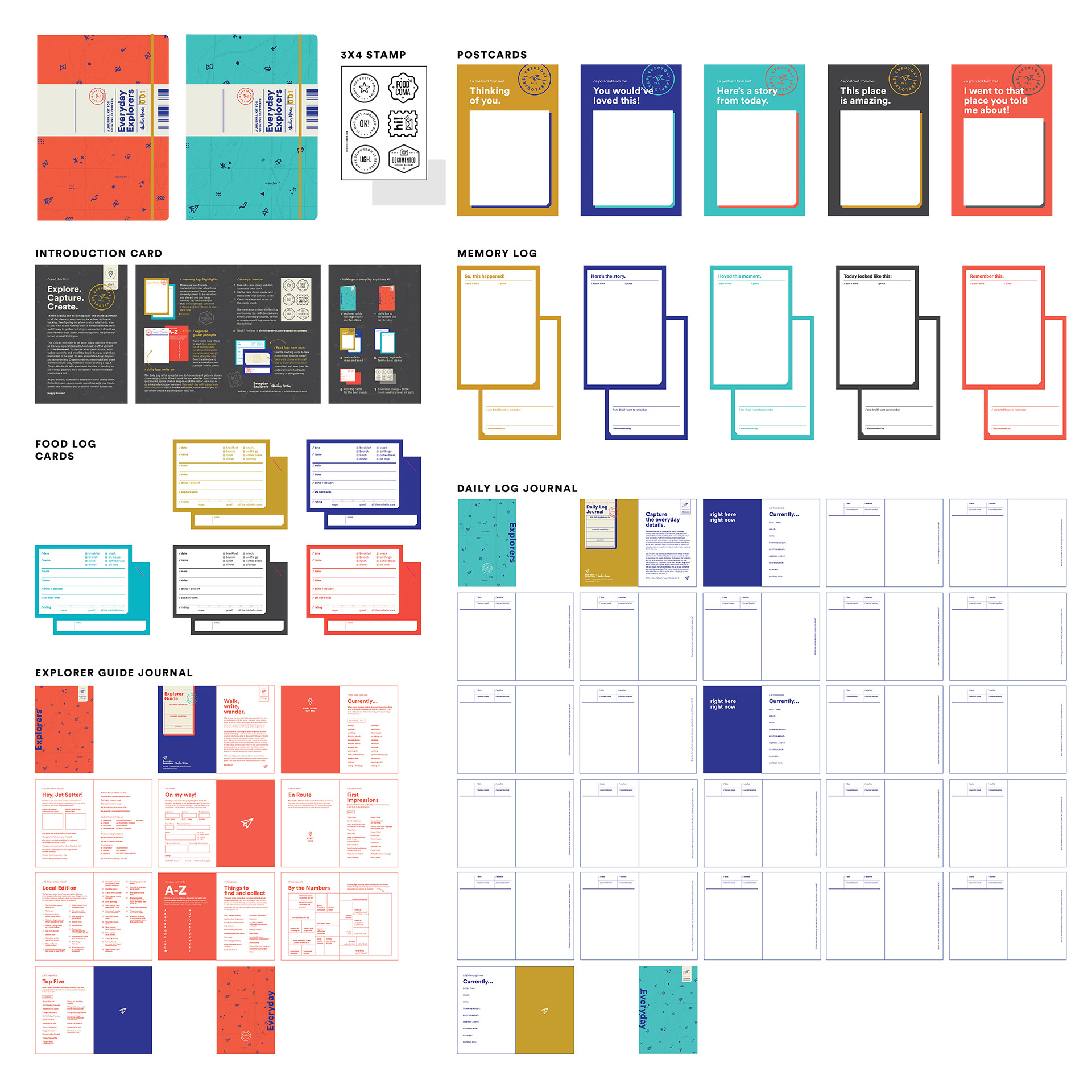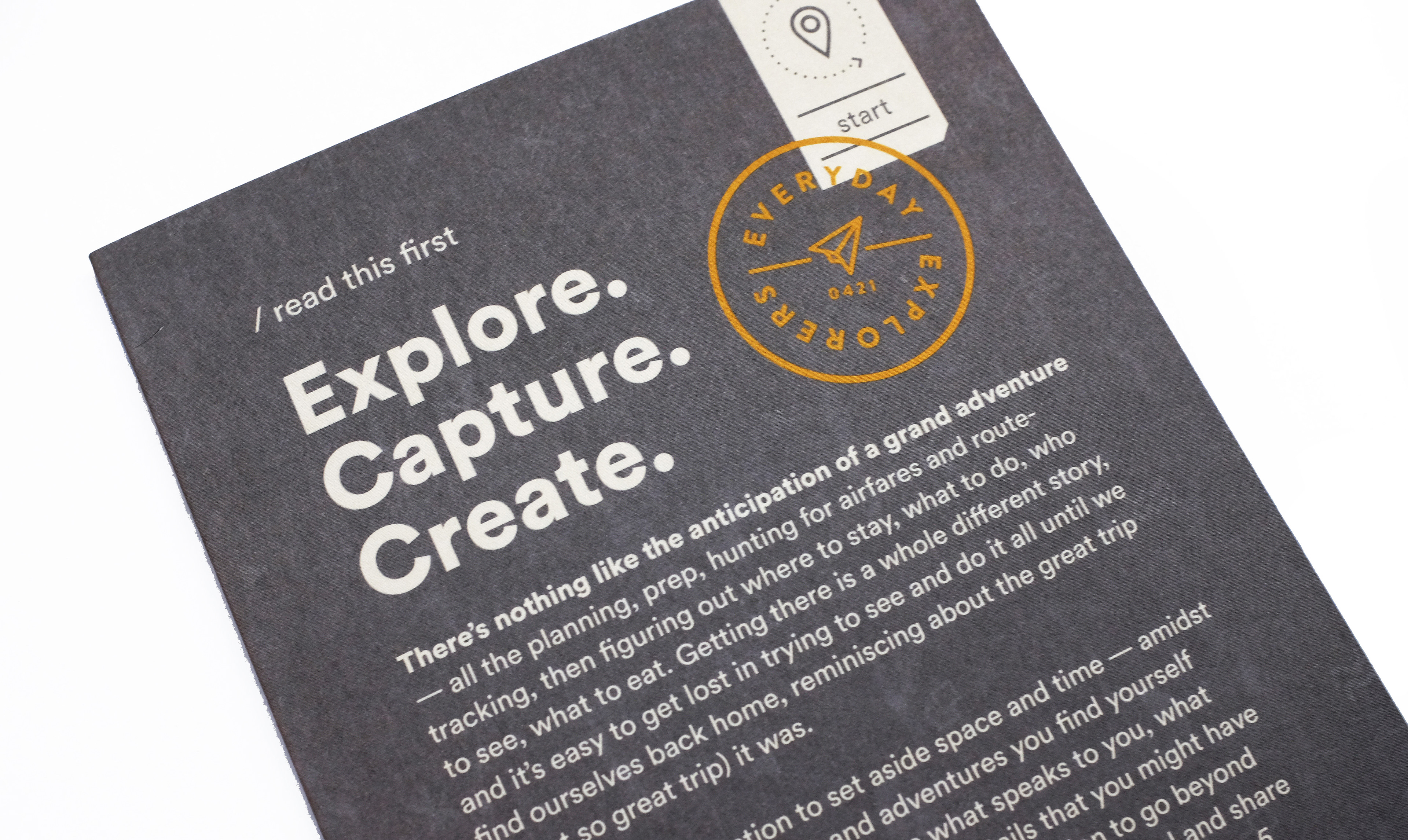 1 - Introduction Card (with instructions)
1 - 3x4 in. clear stamp set + clear block
1 - Daily log journal to document everyday details
1 - Explorer Guide with journaling prompts
5 - Postcards to fill up and send
5 - Memory log cards for recording specific stories
5 - Food log cards to rate and remember awesome meals
1 - box to keep all the bits and pieces!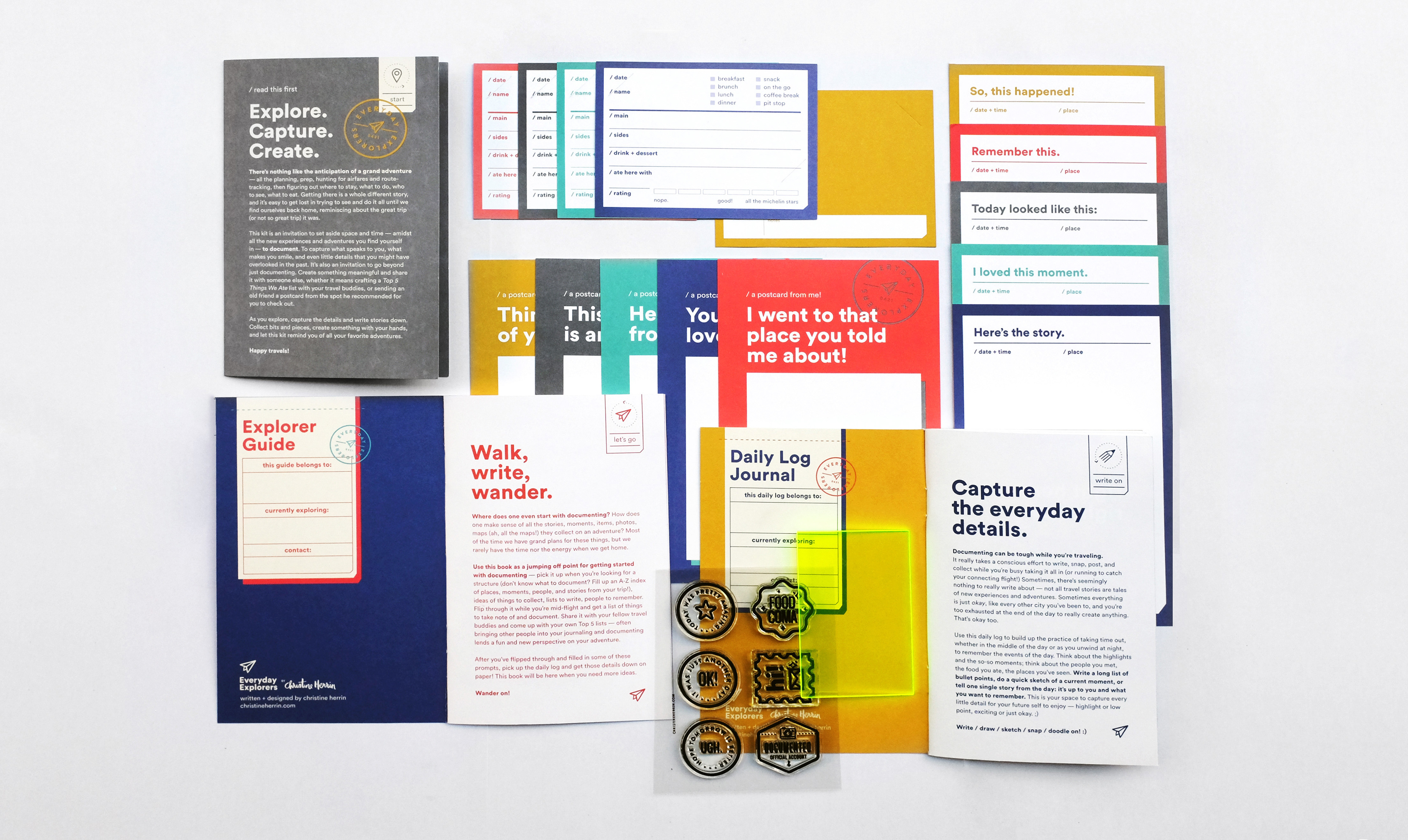 A Closer Look at the Contents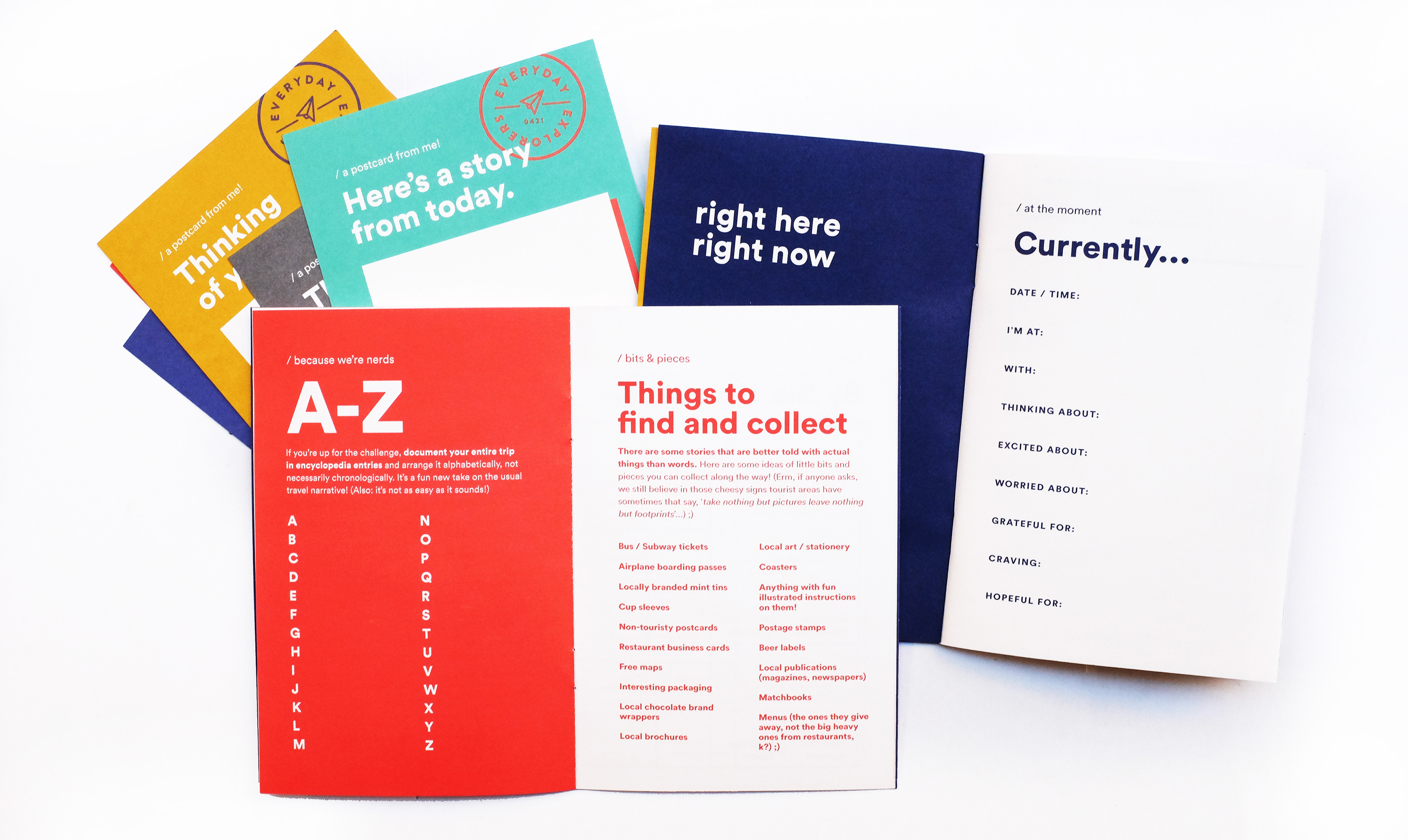 The Food Log cards are there for documenting and rating all your favorite meals (from big brunches to quick coffee breaks!) These come with small perforations at the back so you can easily slip in business cards from restaurants you want to remember (and recommend to friends!) after your trip.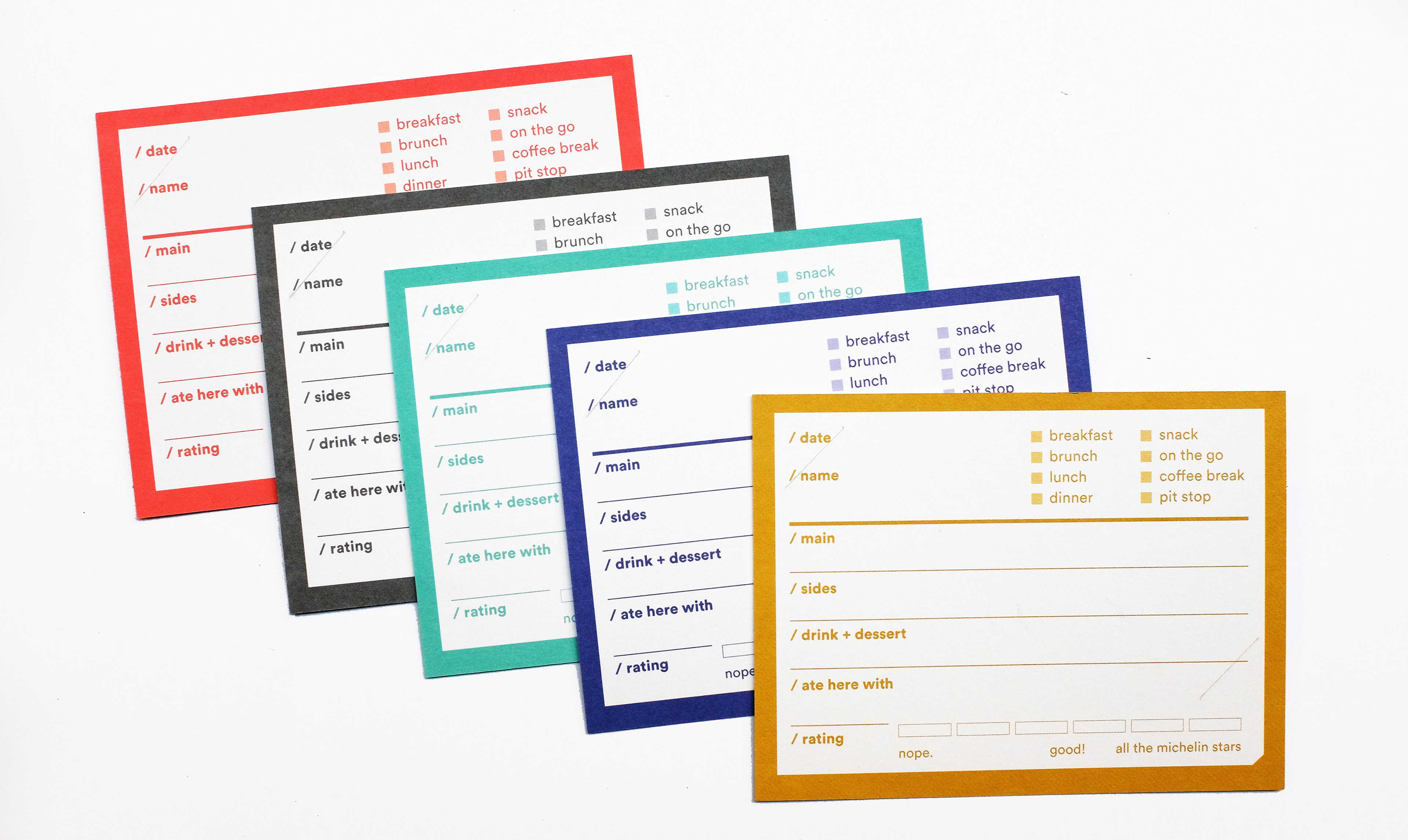 The Memory Log postcards are there for documenting specific memories and stories. The blank space can also be used for adding in photos, ephemera, and doodles — different ways to document all the highlights of your adventures.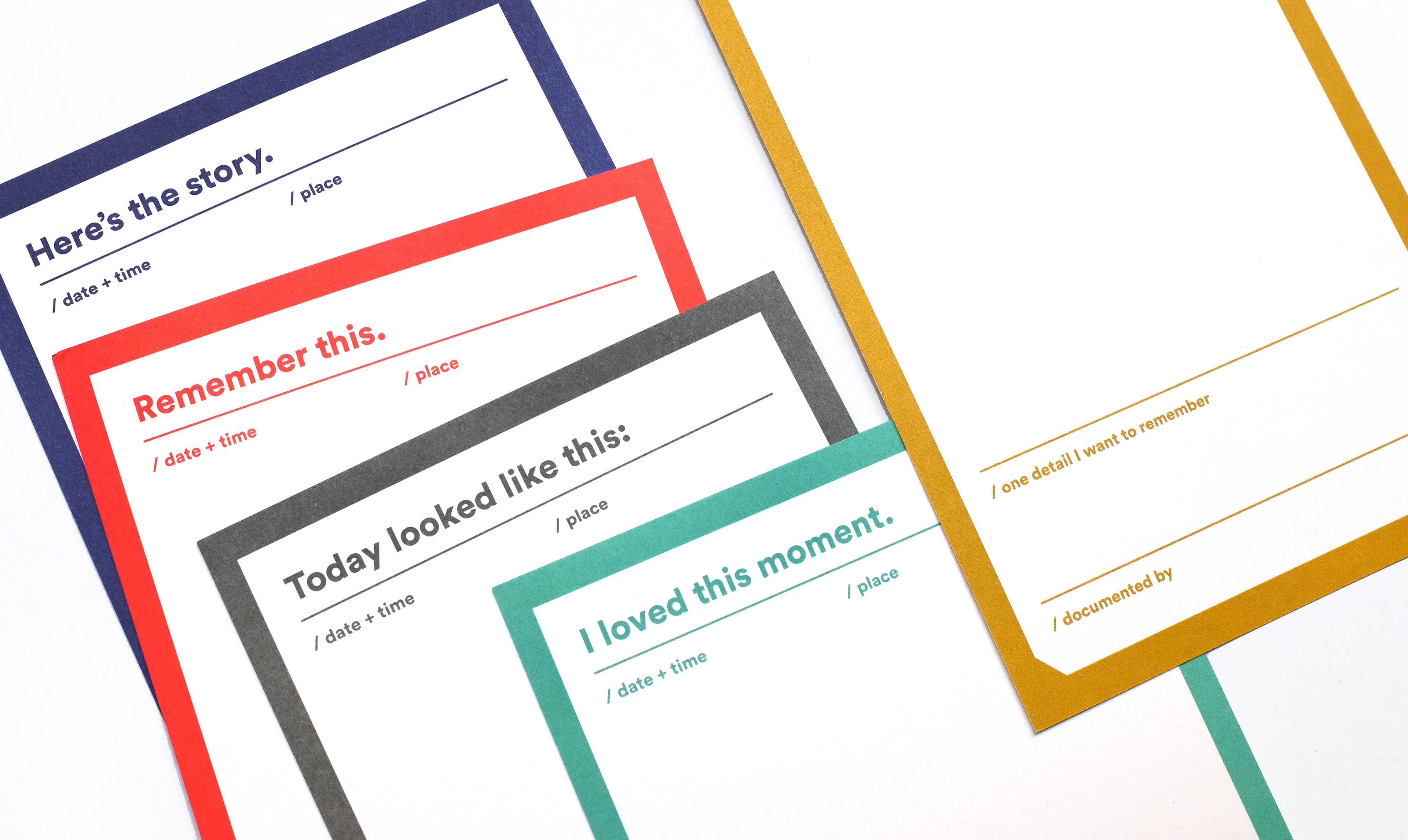 Fun postcards included are there to encourage sharing — specific prompts and greetings are for specific people in your life (there's one postcard especially reserved for that friend we all have who has the best suggestions on places to see and eat!) Use the front for a special story, photo, or illustration; the back is a standard postcard for writing.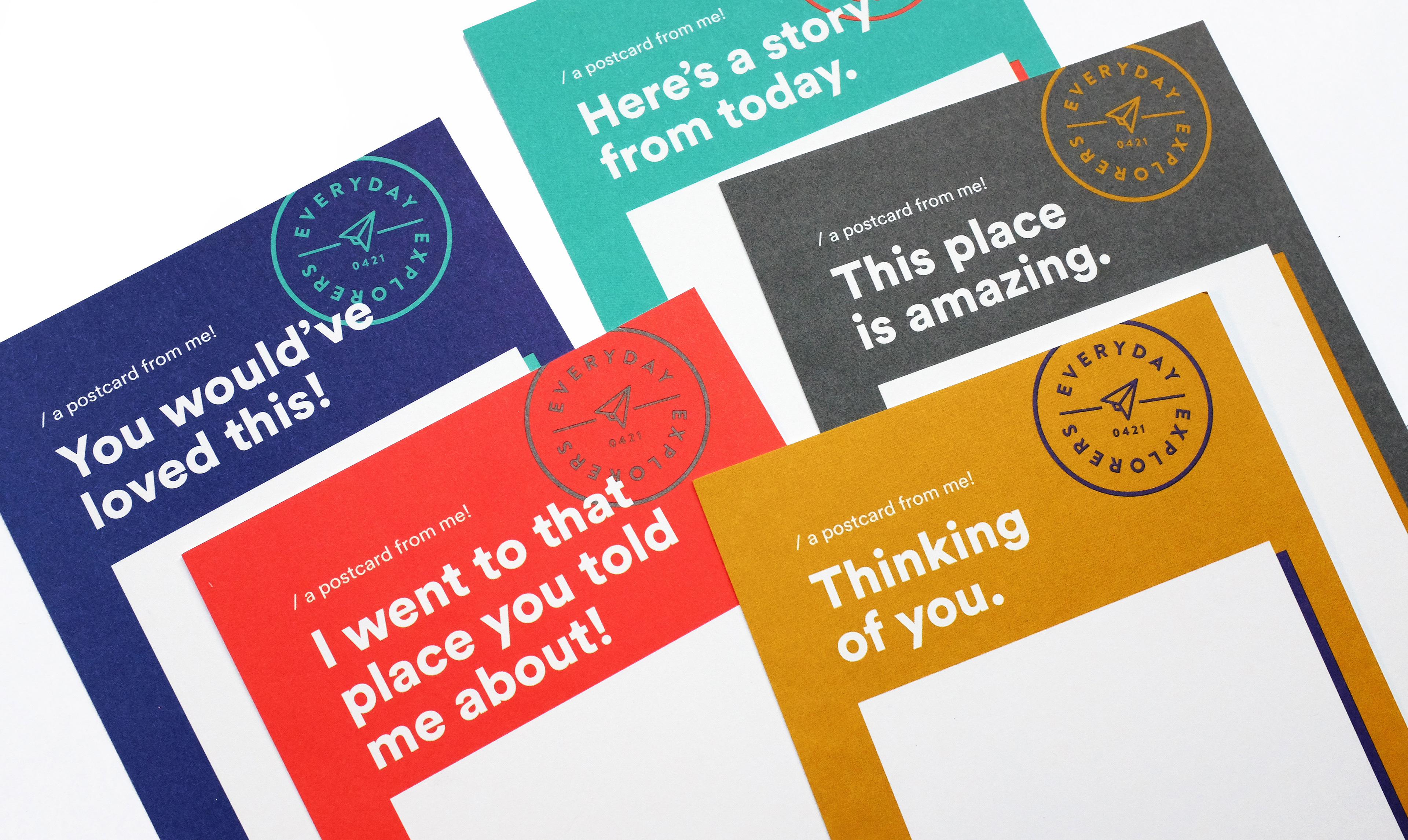 To add another dimension to this kit, I also designed and included a 3x4 in. clear stamp set that coordinates perfectly with specific cards. The set includes three different seals to "rate" each day you document in the Daily Log Journal (was it a wonderful, so-so, or bad day?), a stamp to finish off Food Log cards, one for finishing off Memory Log cards, and one as an add-on before you send out the postcards.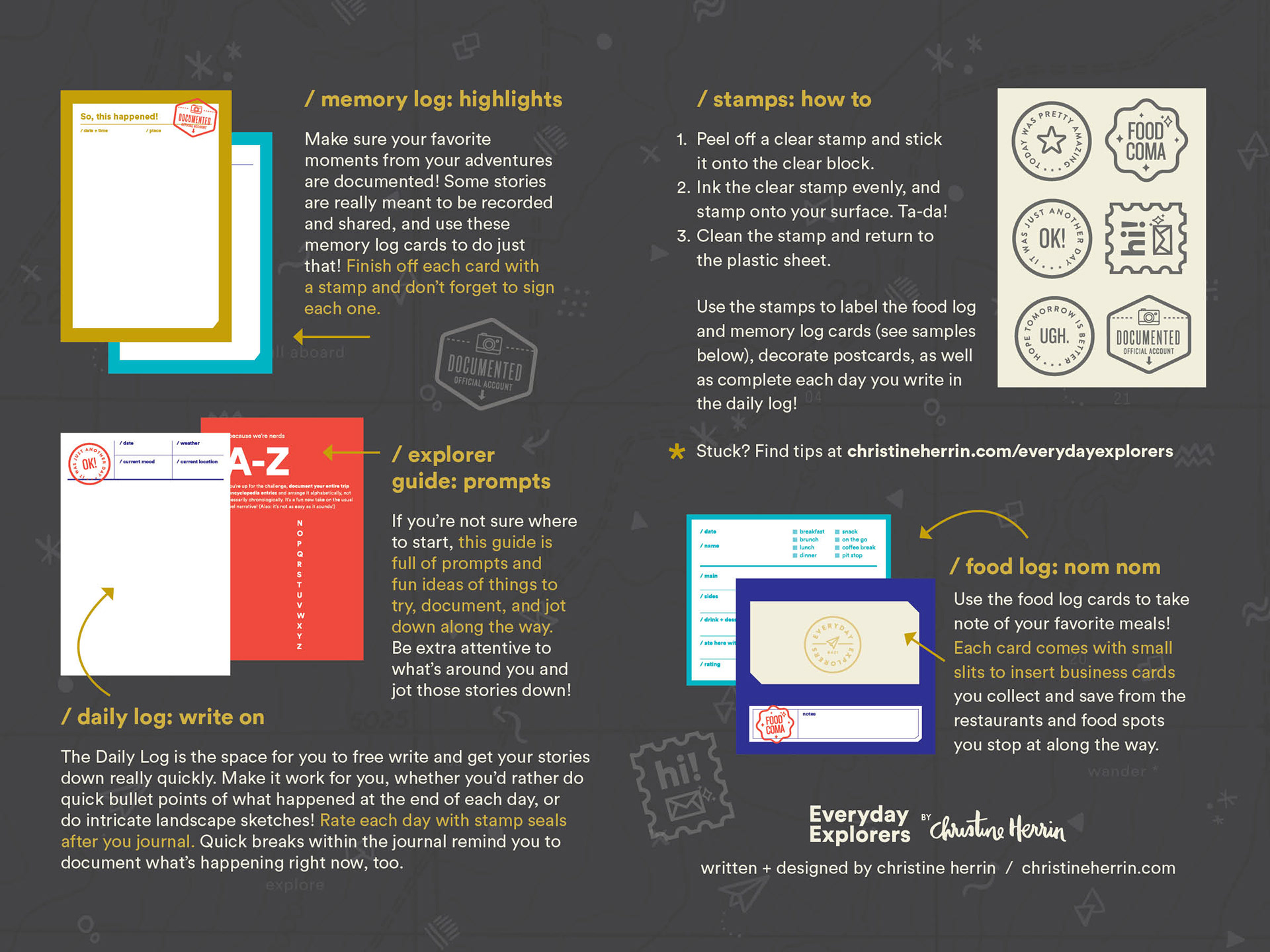 Hugs and high fives to the
Adobe Creative Residency 
for helping make this project possible!