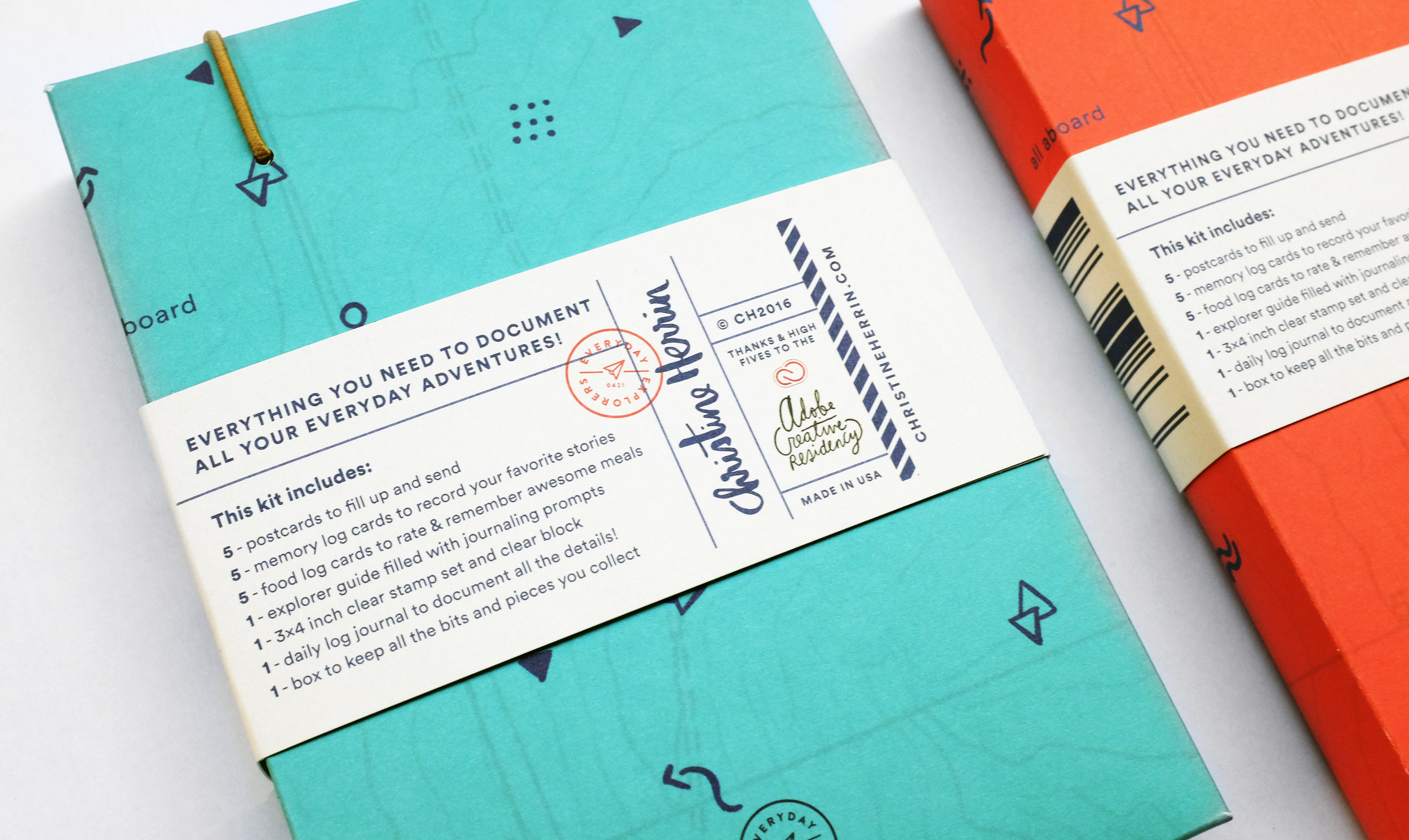 Everyday Explorers Kit
This is an all-in-one kit for documenting long and short trips, as well as everyday adventures! Each one is packed with cards to fill up, prompts to get you thinking, and some suggestions on fun things to document. Collect bits and pieces from your trips (tickets, postcards, and more!) and have a box to keep it all in at the end!
Each kit includes:
1 - Explorer Guide / prompts, ideas to get started
1 - Daily Log / quickly document your day by day as you explore
5 - Postcards / to share and send
5 - Memory Log cards / write down your favorite stories from the road
5 - Food Log cards / take note of your favorite meals
1 - clear stamp set and clear block to add that finishing touch
to your journal entries!
Comes in two colors (same content): Teal and Coral / Closed box
Wholesale price: $20.00 / Retail price: $34.99 - $39.99
Thirty Days Of...
This customizable journal is perfect for those wanting to start 30-Day Projects! A fastener holds 30 blank pages together (each with space to mark the date + current mood, plus a little quote to keep you inspired) — add or subtract pages as you see fit! Inside the cover are a few things to fill out before you start your project, a tracker to take note of each day you successfully work on your project, and a page to fill out reflections on how your project went! :)
Each journal includes:
Planning Page / figure out what project you want to start
Day tracker / color in each day you complete
Evaluation page / reflect on the project you just finished
Fastener / add, subtract, or add layers to each page
Surprise quote at the end / a reward when you finish 30 days!
Comes in one color: Gold / Bound with a fastener
Wholesale price: $15.00 / Retail price: $27.00 - $29.99
ORDER MINIMUMS
$200 minimum required on all first time orders. $100 reorder minimum is required for US retailers. Same order minimum applies for all reorders outside the US.
ORDERING & PAYMENT
Orders can be made via check, credit card (Visa, MasterCard or American Express), or electronic payment (Paypal) to creativityinacup@gmail.com. All first-time orders must be paid in full at ordering. All preorders will be charged at the time of shipment. Order fulfillment takes 1-2 weeks.
CANCELLATIONS, RETURNS AND EXCHANGES
All cancellations must be made within 24 hours of placing your order. Returns and exchanges must be made and postmarked within a week of receiving your order. All product must be unused and in original packaging.
SHIPPING
Shipping costs are charged at time of shipment and will be included on your final invoice. Orders are shipped from SAN FRANCISCO, Domestic via USPS and International via USPS, unless otherwise specified by Retailer.
CUSTOMS
Retailers outside the US may be subject to import taxes, customs duties and other fees upon the shipment's arrival in your country. These charges must be paid by the recipient, we take no responsibility for these charges.
CONTACT
Christine Herrin
Email: christine.herrin@gmail.com
Web: christineherrin.com
Instagram: @christine.herrin